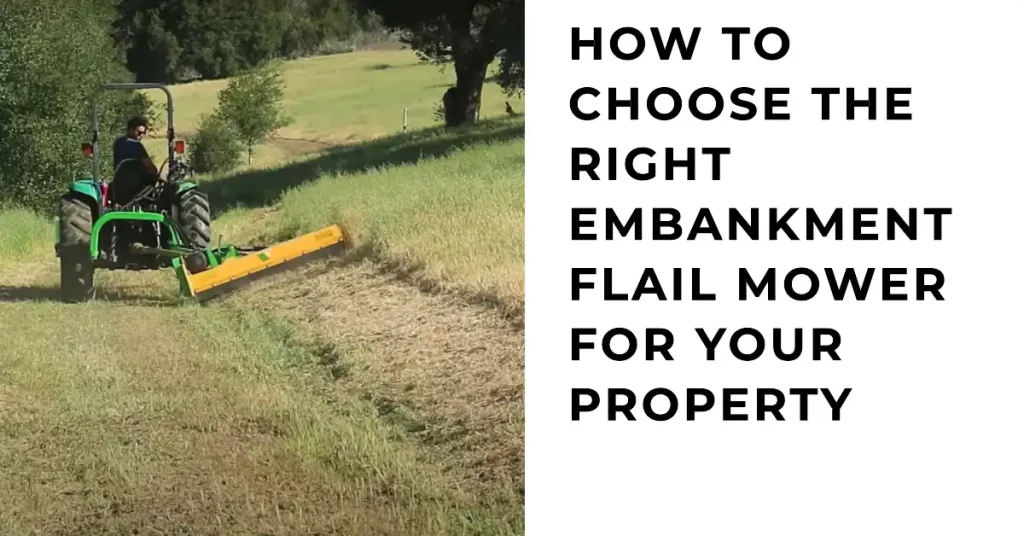 When it comes to maintaining your property, a flail mower can be an essential piece of equipment. Specifically, an embankment flail mower is designed to handle steep slopes, ditches, and embankments. Choosing the right embankment flail mower for your property can be daunting, but this guide will help you make an informed decision.
Determine the type of embankment flail mower you need
There are three main types of embankment flail mowers available at etractorimplements.com:
• Standard Duty (EMSD)
• Intermediate Duty (EMID)
• Heavy Duty (EMHD)
Each type of embankment flail mower is designed for different terrains and levels of usage. Understanding the demands of your property will help you choose the appropriate mower.
Evaluate the size of your property and terrain
For smaller properties, consider the EMSD-48 or EMSD-56. These standard-duty models are suitable for less demanding tasks and smaller tractors.
For medium-sized properties, the EMID-64 or EMID-70 may be more suitable. These intermediate-duty mowers can handle steeper slopes and tougher vegetation.
For larger properties with more demanding terrain, consider a heavy-duty mower like the EMHD-78 or EMHD-86. These models are designed to tackle even the most challenging slopes and vegetation types.
Consider additional features
Some embankment flail mowers come with additional features such as side shift, mulching capabilities, or hydraulic systems. Depending on your needs, these features may be worth considering.
Check the compatibility with your tractor
Before purchasing an embankment flail mower, make sure it is compatible with your tractor. This includes checking the horsepower requirements, hitch type, and hydraulic system compatibility. You may find some useful information on tractor compatibility in The Ultimate Guide to Tractor Flail Mowers.
Read customer reviews and expert advice
To ensure you are making the right choice, read customer reviews and expert advice on embankment flail mowers. You can find valuable insights from other property owners who have experience with various models. Our blog features a wealth of information on different types of mowers and their uses.
• Why the Flail Mower is the Right Choice for Professional Maintenance
• Flail Mower vs. Brush Hog: Which One is Better for Your Tractor?
• How to Add an Extra Set of Hydraulics to your Tractor — Simplified!
Additionally, don't hesitate to contact our experts for personalized recommendations based on your property and requirements.
Compare prices and warranty
Once you have narrowed down your options, compare prices and warranty coverage. At Victory Tractor Implements, we offer competitive prices and comprehensive warranties on our embankment flail mowers. Make sure to factor in any additional costs such as shipping, taxes, or installation fees (shipping is always free with Victory!).
Plan for maintenance and replacement parts
Finally, consider the long-term care and maintenance of your embankment flail mower. Regular maintenance is essential for optimal performance and longevity. You may find helpful tips in our blog post, Everything You Need to Know About Buying a Flail Mower Online.
Additionally, ensure that replacement parts are readily available and reasonably priced. You can find a wide range of replacement parts for your Victory tractor implements on our spare parts page.
By considering these factors, you will be well-equipped to choose the right embankment flail mower for your property. With the proper equipment, maintaining your land will become a more manageable and enjoyable task.
Safety and operational considerations
Before operating your embankment flail mower, it is crucial to familiarize yourself with safety guidelines and operational best practices by reviewing the particular model's user manual. By following safety protocols and understanding the proper operation of your mower, you can reduce the risk of accidents and prolong the life of your equipment.
Consult with fellow property owners
Sometimes, the best advice comes from people who have faced similar challenges. Reach out to fellow property owners, farming communities, or online forums to seek their experiences and recommendations. Their insights can provide valuable information and help you make a more informed decision.
Be prepared to invest in quality equipment
Quality equipment is more durable, efficient, and easier to maintain. In the end, this will save you time, effort, and money.
At Victory Tractor Implements, we are committed to providing top-quality farm equipment and machinery, including the Victory Tractor Implements line of tractor implements. Our selection of embankment flail mowers offers a range of options to suit your property's needs and budget.
By following these steps and conducting thorough research, you can confidently choose the right embankment flail mower for your property. With the appropriate equipment and proper maintenance, you'll be well on your way to keeping your land looking its best.
FAQs
What is an embankment flail mower?
An embankment flail mower is a specialized type of mower designed to maintain steep slopes, ditches, and embankments. It is equipped with heavy-duty flail blades that can efficiently cut through thick vegetation, brush, and small tree branches.
How do I choose the right embankment flail mower for my property?
To choose the right embankment flail mower for your property, consider factors such as the size of your property, the type and density of vegetation, the slope of the terrain, the power requirements of the mower, and your budget. Additionally, research various models and consult with fellow property owners or experts for recommendations.
What are the benefits of using an embankment flail mower?
Using an embankment flail mower offers several benefits, including efficient vegetation management on slopes and embankments, reduced risk of soil erosion, enhanced safety for operators, and better land aesthetics.
Can I use an embankment flail mower with my existing tractor?
Yes, most embankment flail mowers are designed to be compatible with a wide range of tractors. However, you must ensure that your tractor has sufficient horsepower and the appropriate PTO (Power Take-Off) shaft to operate the mower effectively.
How do I maintain my embankment flail mower?
Regular maintenance of your embankment flail mower is essential for optimal performance and longevity. Key maintenance tasks include cleaning the mower after each use, inspecting and sharpening flail blades, checking and tightening bolts, and lubricating moving parts. For more detailed information, consult your mower's owner's manual or seek expert advice.
Where can I find replacement parts for my embankment flail mower?
Replacement parts for your embankment flail mower can be found on the manufacturer's website or at specialized farm equipment dealers, such as Victory Tractor Implements. It is essential to use genuine replacement parts to ensure the proper functioning and safety of your mower.
Is there a warranty for embankment flail mowers?
Warranty coverage varies depending on the manufacturer and model of the embankment flail mower. Before making a purchase, check the warranty terms and conditions to ensure adequate protection for your investment.



Victory Tractor Implements is proud to offer a wide range of products including flail mowers, wood chippers, rotary tillers, and backhoes, all designed to be connected directly to your tractor's PTO for maximum efficiency and performance. In addition, we also offer winter equipment such as snow plows and snow blowers, designed for use with skid steers.

We source all of our equipment directly from the manufacturer and pass the savings on to our customers. As always, the team is standing by to answer any questions to assist with your decision. Victory support can be reached directly at (562) 534-8182 or sales@etractorimplements.com