Not sure which mower suits your needs? Our Victory 2023 Flail Mower Buyer's Guide is the perfect resource to help you make an informed decision. We also have a comprehensive guide on Everything You Need to Know About Buying a Flail Mower Online.
Victory Flail Mowers: Unmatched Quality and Performance
Flail mowers are an essential tool for maintaining gardens, agricultural fields, and other landscapes. They use a rotating drum with blades that flail against vegetation, effectively cutting through thick grass, weeds, and brambles. Where regular mowers fail, flail mowers excel, reaching areas inaccessible to conventional mowers.
Victory Tractor Implements offers a wide range of flail mowers, designed to work with CAT I & CAT II tractors ranging from 15 to 100+ HP. Our mowers come with features like offset, embankment, and mulching capabilities, and mowing widths range from 48″ to 94″, with extensions reaching up to 134″. Our embankment mowers even feature a hydraulic swivel arm for operation from -55 degrees (for ditches) to +90 degrees (for hedges).
Delivery, Unboxing, Assembly and Operation: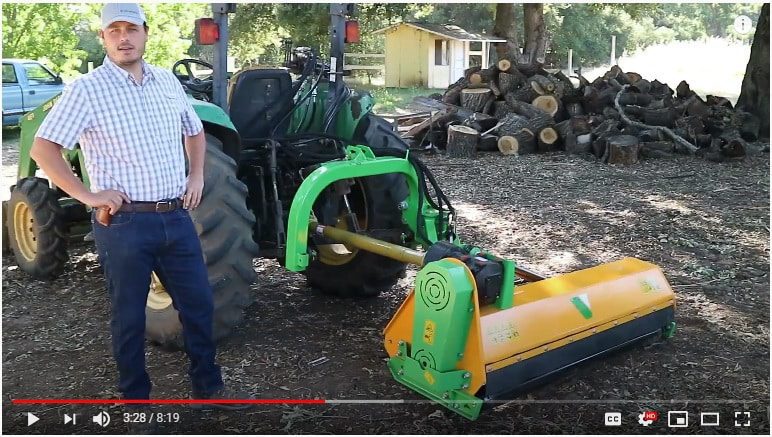 Why Choose Victory?
Victory Tractor Implements provides top-quality agricultural farming equipment, including the best flail mowers, offset mowers, and verge mowers available online. Ideal for private estates, parks, agricultural fields, and other large properties, our mowers are designed to handle uneven terrains and extreme mowing conditions.
Quality and Value Delivered
We source our equipment directly from the manufacturer, eliminating the middleman and passing the savings onto you. Our fully stocked spare parts warehouse ensures your equipment stays running optimally with items like replacement belts and blades. Check out our customer reviews on Google to see why so many choose Victory.
Free Shipping and Excellent Customer Service
We offer free shipping to residences, businesses, and farms within the continental US. Need help with offloading? Just select the liftgate option at checkout. Our freight carriers are equipped to deliver your equipment when and where you need it. And yes, the PTO Shaft is included!
Contact Us
We're here to help! Reach us directly at (562) 534-8182 or send us an email. We'll get back to you in 24 hours or less. At Victory Tractor, we're committed to providing the best customer service and the highest quality equipment at the best prices.
At Victory Tractor, we source all of our equipment directly from the manufacturer and pass the savings on to our customers. As always, the team is standing by to answer any questions to assist with your decision. Victory Support can be reached directly at (562) 534-8182 or sales@etractorimplements.com