Have you ever wished you had an extra set of hydraulics on your tractor? Does it feel like a hassle when you have to constantly switch hoses to get full functionality out of your implements?  You're not alone, this has become a common problem for tractor owners as tractor implements have continued to require greater functionality than ever before.
But the good news is that you don't have to suffer just because your tractor has limited built-in hydraulic functions. You can actually add an extra set of hydraulics to your tractor so that you're able to use multiple attachments simultaneously without breaking the bank!
So, dive deeper into this concise yet comprehensive guide and see the benefits and steps of adding extra set of hydraulics to your tractor!
Why You Need an Extra Set of Hydraulics?
Hydraulics are the cylinders that provide movement of a variety of implements, such as up and down or left and right movement.   Many implements require two, sometimes three independent hydraulic circuits to achieve full functionality.
But apart from this obvious use, there are two other significant benefits of adding an extra set of remotes to a tractor.
Many Implements Require Multiple Remotes
Many attachments, such as embankment flail mowers, require more than one hydraulic circuit to operate. So, if your tractor has a single set of hydraulics, you are limited in operating capacity.
These attachments need additional hydraulics to support a range of movement. While possible to operate on a single set, it can be cumbersome to constantly switch the hoses every time you need to control a new function.
Use Attachments on the Back and Front
Not all tractors come equipped with front and rear remotes.  Adding an extra set of hydraulics to the rear of the tractor will expand the number of implements that can be used, such as flail mowers, wood chippers, and many more.
How to Add an Extra Set of Hydraulics to Tractor with a Hydraulic Multiplier kit
A Hydraulic Multiplier provides additional hydraulic functions by tapping into your existing hydraulic system. As the name implies, it "multiplies" the number of hydraulic couplers available giving you access more functions in real-time. It comes equipped with a control box that allows you to easily switch between functions, alternating between movements such as up and down, left and right, open and close, etc. Installation is quick, easy, and perhaps most importantly, cost effective.
Here's a list of things you need for the procedure followed by a step-by-step guide:

What You Need:
• Hydraulic Multiplier kit
• Gel Lubricant
• Wrench
• Clean cloth
• Zip ties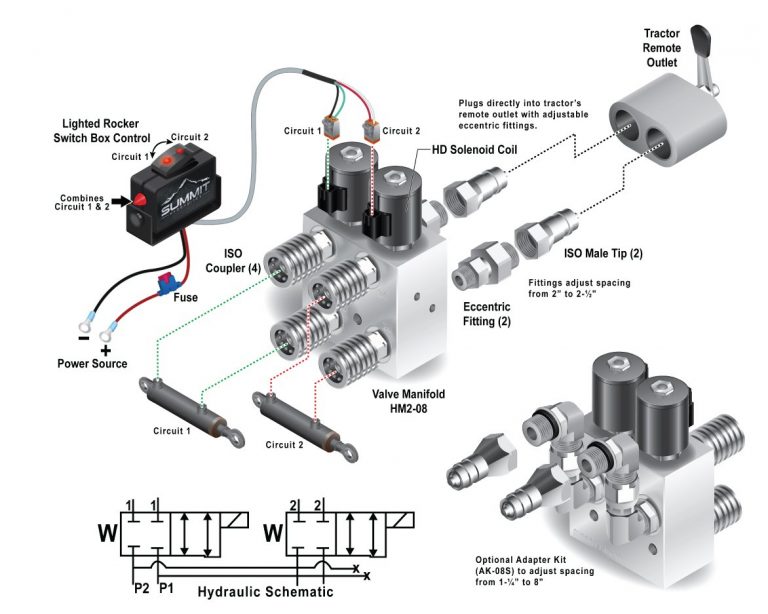 How to Install
Step 1: Lubricate couplers before inserting into hydraulic multiplier base.  WD-40 Gel Lubricant works well for this purpose.   Do not use Teflon tape or similar as these couplers are not designed for that application.  Use a wrench to tighten

Step 2: Install eccentric fittings in the opposite side of the base.  Once completed, add Male tips to each eccentric fitting.  They should be able to turn, allowing the fittings to rotate and to fit securely into remote housing.
Step 2a: Some tractors may have brackets or other obstructions preventing installation.  In this scenario, there is an adapter kit with right angle fittings that can be added to allow for additional movement providing the necessary clearance.  First you will install the male-to-female fittings, followed by the male-to-male fittings, and finally add the Male tips to complete the modification.  Now you will be able to rotate the fittings according to your needs.  Use wrench to tighten securely.
Step 3: Connect wiring box to hydraulic multiplier block by plugging circuit 1 and circuit 2 into the fittings in the solenoid cells.   Run circuit line back through tractor to the operator area, securing to stationary lines by zip tie or other mechanism, ensuring they are safely out of the way. 

Step 4: Mount switch box to a switched power source, such as an accessory switch.  The red cable needs to be connected to a positive terminal and the black cable needs to be grounded.

That's it!  You now have an additional set of hydraulics that will allow you to operate a second function, such as vertical or horizontal movement.  As an added bonus, this kit can easily be disassembled and removed from the tractor as needed.

For a video walkthrough, we recommend checking out Ask Tractor Mike on YouTube.  His channel is chock full of good information, tips-and-tricks, and instructional videos to help you make the most of your investment.

The Takeaway
Adding additional remotes to your tractor can be expensive, but there are ways to minimize those costs by taking a hands-on approach.  Doing so will likely extend the life of your tractor, while opening the door to a whole new world of implements at your disposal. 
After all, who couldn't use a few more toys to play with?



Victory Tractor Implements is proud to offer a wide range of products including flail mowers, wood chippers, rotary tillers, and backhoes, all designed to be connected directly to your tractor's PTO for maximum efficiency and performance. In addition, we also offer winter equipment such as snow plows and snow blowers, designed for use with skid steers.

We source all of our equipment directly from the manufacturer and pass the savings on to our customers.  As always, the team is standing by to answer any questions to assist with your decision.  Victory support can be reached directly at (562) 534-8182 or sales@etractorimplements.com