Getting Started: Wood Chipping
Whether purchasing your first chipper or looking for an upgrade, one of the most common questions we get asked is whether to opt for a self-feeding or hydraulic wood chipper.  As you may expect, the job requirements and tractor hp will ultimately be the deciding factor, but there are a number of additional things to consider.  In this blog post, we will cover the differences between the most commonly used chippers, and address the pros and cons of each.
Before we get started, below is a list of equipment one should have handy when performing any chipping job.  This applies to both self-feeding and hydraulic wood chippers.  Anyone who has been in the crossfire of a wayward branch or wood chip knows what I mean!
Wood Chipping Accessories Checklist:

❏ Small Chainsaw – Used for prepping larger logs/branches
❏ Lopping Shears – Handy for trimming small branches
❏ Trash Can – Catches wood chips as they are expelled from the chute
❏ Work Gloves – Protects your hands while handling a variety of wood & logs
❏ Earmuffs – Noise protection
❏ Face Mask – Face protection
❏ Hard Hat – Head protection
❏ Heavy Jacket – Limb and body protection
Self-feeding Wood Chipper: BX42S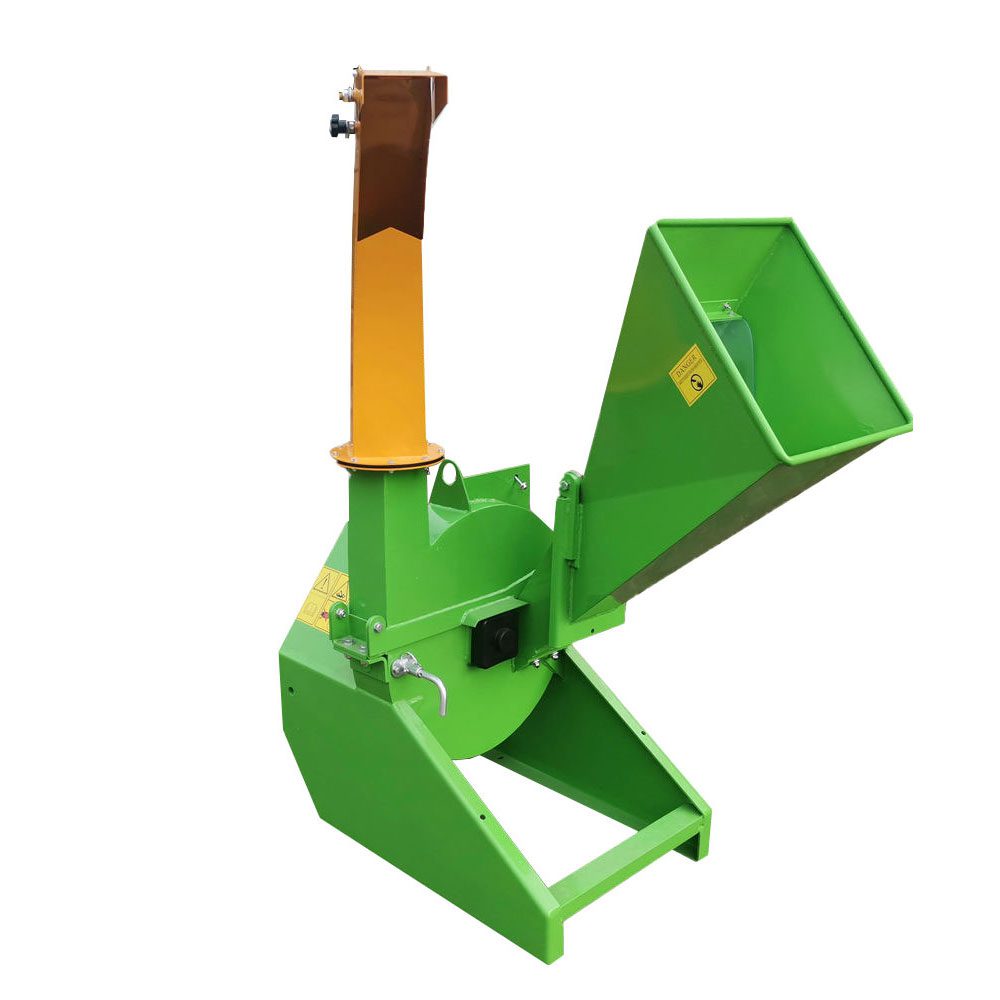 The BX42S self-feeding wood chipper is one of the most widely used chippers for rural property homeowners.  Ideal for clearing small trees and branches, the BX42S chipper is designed to handle logs up to 4 inches in diameter, with a 20×20 inch hopper opening capable of handling small logs with branches or y shapes.  Relative to other PTO wood chippers available, this model is smaller in size and designed to process generally smaller material, with a subcompact to mid-sized tractor (18 to 50hp – we'll get to that in a second).
An advantage to the BX42s being a self-feeding chipper is the relatively basic and straightforward design.  Since this model is direct drive there are no belts or gearboxes to deal with.  The drive shaft is equipped with a shear bolt to protect the tractor in the case of a malfunction.  When it comes to clogs, typically only one bolt to remove the hood.  Once the hood is detached, it is very simple to clear debris and get back to chipping again.
One of the reasons the BX42S model is so popular among landowners is its ability to accommodate a wide range of subcompact and mid-sized tractors.  The minimum hp required at PTO is 18hp with support all the way up to 50hp, and is designed to run at 540 rpm.  It is important to note that the PTO hp has a direct effect on the size of material the chipper will be able to handle.  Depending on hardness, running the minimum may not be sufficient to support all 5 inch logs, however should be fine for 3 inch or less.  
Click here to see common tractor HP to PTO ratios.  
PROS: Simple design, minimal HP required, low cost
CONS: Highly manual, cannot handle large logs
Interested in this product? Check out the Victory Tractor BX42S 
Self Feeding Wood Chipper: MDWC-1500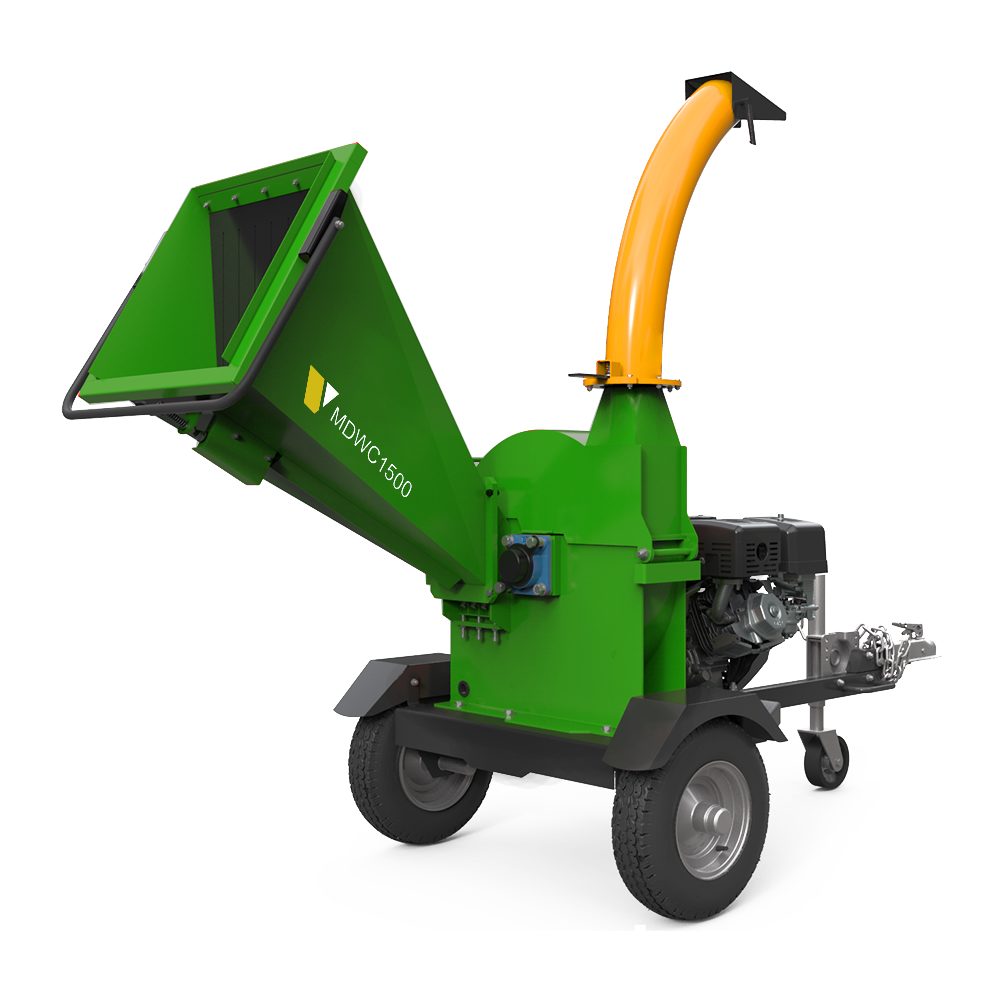 MDWC-1500 MOTORIZED DISC WOOD CHIPPER 
Most folks familiar with this style of chipper may immediately notice the similarities to the gas powered GTS-1500 (and rightfully so!). The MDWC-1500 is an upgraded design offering high quality craftsmanship and featuring a disc rotor to replace the outdated drum style processor, increasing both efficiency and productivity. Anyone who's been out chipping for hours on a hot day knows that is not a bad thing!
I know what you're thinking – let's get to the performance already! Powered by a 420CC Briggs & Stratton gasoline engine, the MDWC-1500 operates at 13.5 HP (21 ft./lb. torque) and is capable of processing branches and logs up to 4.5″ in diameter, regardless if how hard, wet, or otherwise weathered the material is.
Aside from being gasoline powered rather than relying on the tractor PTO, this model of wood chipper is extremely versatile and maneuverable, whether moving by hand or attached to a tow hitch. Because of this it's not difficult to see why this design has stood the test of time (much like the BX42s).
PROS: Tractor independent, quality design, suited for professional applications
CONS: External fuel source required, higher upfront cost than other self-feeding wood chippers
Interested in this product? Check out the MDWC-1500 Motorized Disc Wood Chipper 
Hydraulic Wood Chipper: BX510H
Consider the BX510H the handsome and more popular big brother of the BX42S.  This guy is the track star, quarterback, class president and prom king all rolled into one.  Designed for large scale jobs and requiring more power than self-feeding chippers, the BX510H hydraulic wood chipper is suitable for professionals, farm, ranch, and woodlot owners alike.
The PTO range for this model is 18-50hp, which impressively supports chipping of large branches even at the low end of the hydraulic wood chipper range.  This includes material such as 4" diameter ash limb, 5" diameter cherry limb, Entire 3" diameter ash tree, 4.5" diameter cherry limb, 4" diameter cherry limb, and 3" diameter dead cedar tree.
Running at full PTO capacity, the BX510H effortlessly shreds 5 inch logs through its infeed and independent hydraulic system.  The hydraulically powered rollers can easily be adjusted to support inward and neutral positions, providing the operator with flexibility when working with large material.  In addition, the infeed speed is adjustable, controlling chip output and desired thickness.  Similar to the BX42R, this model is designed to run at 540 rpm at PTO.
Click here to see common tractor HP to PTO ratios.  
PROS: Effortlessly processes large materials, greater flexibility, suited for professional applications
CONS: Requires more power, higher maintenance threshold, upfront cost
Interested in this product? Check out the Victory Tractor BX510H Hydraulic Wood Chipper 
Hydraulic Wood Chipper: WC8H
Featuring a fully self contained hydraulic system, this versatile and high quality chipper is extremely popular among professionals and land owners alike as the WC8H does not require tractor hydraulics to operate effectively.
In addition, this model is equipped with a 5 belt drive system with a 2:1 gear ratio, enabling the blade rotor to run twice as fast as the 540 RPM resulting in better performance and effortless material processing.
As the name suggests, the WC8H Hydraulic Wood Chipper is designed to support branches, limbs, and small logs up to 8 inches in diameter, making this model the highest caliber wood chipper on this list. The WC8H provides a number of similar benefits as the BX72R, including adjustable infeed and a variety of roller positions.
Click here to see common tractor HP to PTO ratios.  
PROS: Effortlessly processes large materials, suited for professional applications, highest processing capability
CONS: Requires more power, higher maintenance threshold, upfront cost
Interested in this product? Check out the Victory Tractor WC8H Hydraulic Wood Chipper 
Expert Tips for Expert Wood Chipping
How to operate: Although it may seem fairly straightforward, there is an order of operations to start up that may not be immediately apparent to first time users.  (1) start tractor, (2) engage PTO, (3) ramp up to RPM.
Firewood: Hardwood over 4 inches in diameter is often a great source of firewood.  For the folks running the BX42s, this is often the rule of thumb.  Under 4 inches, shred it.  Over 4 inches, firewood pile.
Prepping: Cut brush and let lie for a week or two until the leaves dry up.  Green leaves, wet wood, softwood can jam the chipper and result in clogging.  Prep large branches with a chainsaw prior to chipping.  Create piles/stacks that are ready to go rather than cut as you go with the tractor running.  Although these machines are designed to open up easily and remove stuck debris, anybody who's been out chipping on a hot day knows this is better left alone!
Wood chips: There are many great uses for wood chips, such as mulch around the garden and flower beds or fruit trees.  Some types of wood like pure maple are great for smoking, so if you're into BBQ or know anybody who is, that can be a great way to stock up on some free smoked meat and fish!  Another common use is to place the wood chips on trails throughout the property, especially if there are wet areas, to dry everything up.  Some folks even sell them, which over time could pay for the wood chipper itself.
BONUS!  Expert Hack: The delivery material can easily be converted to a container for transporting processed wood chips.  Just wrap chicken wire around the frame of the delivery box.  Now you have a container to store wood chips for placement.  
Wood Chipping: In Closing
Regardless whether self-feed or hydraulic wood chipper, this essential piece of equipment is a must for anyone who regularly finds themselves clearing out nightmare brushes so overgrown you can't do anything.  Sick and tired of brush piles all over the place, dragging fallen logs and branches out to the woods, or figuring out how to burn them.  I cannot imagine anyone with a rural property not having a chipper.
And finally, these days with all the screen time, it's more important than ever to get the kids outside and socialize (even if it's just with mom or dad).  Chipping is a great bonding opportunity for some quality family time while they learn how to tend the land, a skill that will serve them and continue to serve generations to come.



Victory Tractor Implements is proud to offer a wide range of products including flail mowers, wood chippers, rotary tillers, and backhoes, all designed to be connected directly to your tractor's PTO for maximum efficiency and performance. In addition, we also offer winter equipment such as snow plows and snow blowers, designed for use with skid steers.

We source all of our equipment directly from the manufacturer and pass the savings on to our customers.  As always, the team is standing by to answer any questions to assist with your decision.  Victory support can be reached directly at (562) 534-8182 or sales@etractorimplements.com