In 1971 Elmer Mott of Mott Corporation penned an essay titled 'Why I Believe in Flail Mowers'. 
Not much has changed in the fifty years since the article was originally published.  Today's post is an adaption of Mr. Mott's original "blog" written so many years ago.
As commercial grade flail mowers continue to become more affordable it is important to remember how these widely used tractor implements became so common in the first place. 
Commercial turf continues to be an ever growing billion dollar industry.  Professionals continue to rely on Flail Mowers to maintain greenbelt areas of shopping centers and strip malls, airport turf, golf courses, factory and HQ lawns, city median strips, national and county public parks, highway and utility rights-of-way, athletic fields, and more.
Depending on how often an area is mowed a variety of vegetation tends to grow.  Ranging from smooth, clean and level to rough, trashy, banked, or all of the above.  Under maintained properties often develop think weeds and brush when neglected for extended periods of time.
It's for the reasons mentioned above that Flail Mowers are regularly the first choice when combatting a variety of ever changing conditions, and quickly the landscape is returned to a condition that appears to the unsuspecting eye as though there was never any growth at all.  
In order to successfully meet the conditions of the job there are a number of factors to consider.  The width of the mowing area, maneuverability of the mower and flail shaft, and ability to mow around corners, curves, slopes, and bends are attributes of various flail mower models though not specific to a particular brand or type.  In addition, tractor HP will mainly determine the size of mower to accommodate.  This ranges from subcompact to mid-size tractors and extends to industrial sized mowers.
Mower type has a direct correlation to performance and effectiveness in addition to terrain.  Fine grass, field grass, brushy growth, tough weeds with consideration to length are important to understand.  Beyond vegetation, the terrain will also dictate mower requirements to ensure the desired outcome based on factors such as roughness, ground precipitation, and slope.
The term flail refers to a specialized mower type designed to rotate along a horizontal shaft at moderate to high-speeds.  Attached to the shaft are a number of free swinging "flails", also known as knives, cutters, blades, chains, or beaters.  The flails rotate on a vertical plane around the shaft, hanging straight out when cutting due to the force and momentum of the rotational speed.
The type of flails used will have a direct effect on performance, which includes not only the desired outcome, but factors such as cutting ability and power required to operate effectively.  The most commonly used "knife" type flail is often considered to be the best, requiring less tractor HP due to a lower weight and overall better cutting results than other flail types. 
When discussing Flail Mowers it's important to consider rotary type mowers as well.  In fact, the flail mower is sometimes even referred to as a "vertical rotary".  Both mower types cut with an impact action instead of a shearing action (think reel or cutter bar mower).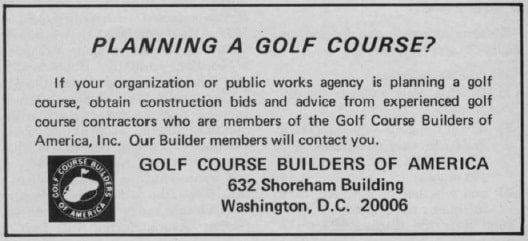 The weight of the blade and impact velocity largely determines the impact force inflicted upon the object in question, whether grass, rock, tree stump, or anything else coming in contact with the blade.  Because of this, the flail mower is a safer choice for mowing, with weight and therefore less force coming in contact with foreign objects and potentially expelling outward towards bystanders or the operator.
Because the flails rotate in a vertical fashion, debris is far less likely to be ejected horizontally, reducing the risk for objects to be flung onto the roadway or structure.  The roller would immediately stop and deflect any wayward items with the cutter housing acting as a shield to provide further protection should any discharge manage to make it high enough to clear the roller.
In summary, the relatively light weight of the free swinging flail, vertical plane of operation, guard qualities of the roller and added shielding of the cutter housing all contribute to making the flail mower the safest to operate of all impact action mowers.
The basic design of the flail mower gives cause to the flail mower's superiority over a wide swath of mower types available for purchase.  The low weight and mass of the knives combined with the vertical force motion results in a lower power requirement and optimal output.  The free swinging flail design minimizes potential for damage when a variety of objects are encountered, while still providing efficacy to process vegetation of all types suitable for fine lawn grass, field grass, weeds and light brush. 
Control of the cut height is very accurate even when working through uneven terrain, a function of adjustable roller and ability to follow the ground contour closely.  As such, there is no adjustment necessary on the knives themselves (nor can they be adjusted).  This helps minimize maintenance requirements and makes for easy exchange when it comes time to replace the flails due to age or wear.
By virtue of the flail mower design there is no need to completely encase the cutter for safety purposes.  This allows the full width of the mower to reach the grass without flattening and cut in an upright position.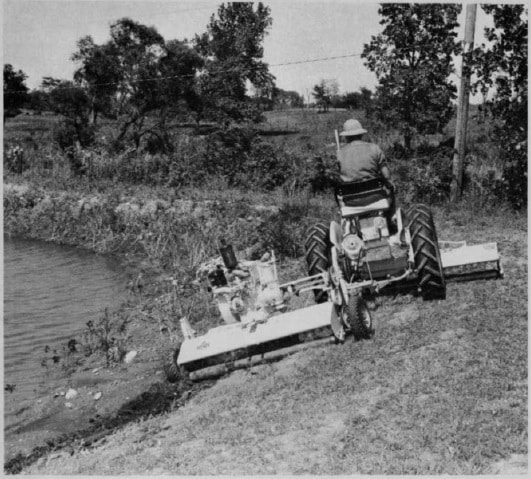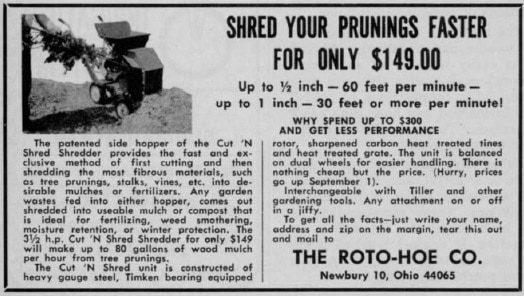 Due to the open full span intake and discharge the flail mower is suited to process higher volumes of vegetation than other mowers.  This feature is especially relevant when operating in wet conditions, where clogging and cleaning would often be a concern.  The open "pass through" nature of the flail mower design provides for a certain self-cleaning aspect, where processed dry and wet debris are effectively discharged through the rear.
And finally, mowing speed.  Because of the mower's ability to process high volumes of material effectively, it's not uncommon for mowing speeds to exceed 10 mph.  When it comes to clearing large swaths of land this can mean hours of time saved throughout the course of a day.
Although the flail mower may not be the best choice for every job, there's no doubt that it is the most versatile.  If the goal is to have the "swiss army knife" of mowers, the flail mower is the king.



Victory Tractor Implements is proud to offer a wide range of products including flail mowers, wood chippers, rotary tillers, and backhoes, all designed to be connected directly to your tractor's PTO for maximum efficiency and performance. In addition, we also offer winter equipment such as snow plows and snow blowers, designed for use with skid steers.

We source all of our equipment directly from the manufacturer and pass the savings on to our customers.  As always, the team is standing by to answer any questions to assist with your decision.  Victory support can be reached directly at (562) 534-8182 or sales@etractorimplements.com
Proud supporters of the FFA