The Ultimate Rotary Tiller Guide 
Are you considering purchasing a new rotary tiller for your tractor? If so, choosing the right tiller is essential for optimal performance and longevity on various soil conditions.

In order to make the best decision, a number of things need to be considered before making the purchase.

What is a Rotary Tiller?
Tilling is an essential practice in gardening, landscaping, and farming to break up the soil, allowing for better aeration and water flow.  Rotary Tillers are a tool used to convert hard dirt and soil into usable seedbed by churning the earth until the ground is fine enough for planting. 
Depending on the size of the job, rotary tillers range in size and operating requirements.  The smallest ones can be pushed from behind and operate on two wheels.  Large scale jobs such as landscaping and construction projects often require more robust capabilities and power provided by the PTO shaft on small, mid-sized, and heavy-duty tractors.
Drawing from the power provided by your Tractor's PTO, the rotating shaft of the tiller digs into the dirt using a set of curved blades (tines) to condition the earth.  The tilling depth can be adjusted, however, it's generally accepted that tilling more than six inches is unnecessary.
The width of the tiller should be no less than the outer width of your tractor tires.  This is to ensure an even till with no gaps.  As a best practice, make sure to overlap the tilled dirt with each pass.
Howse 6'/72″ Rotary 3pt Tiller John Deere,Kubota,Ford..
Best time of year for tilling?
Spring is typically when most people begin tilling for the coming season, just in time to begin planting the next year's harvest.  If you haven't tilled the area before, it's recommended to prime the area first by plowing the soil in the previous fall and allowing it to sit through the winter.  So plan ahead! 
Whether or not you've tilled the area previously, you'll want to make sure not to rush the first or second pass.  Otherwise, you will not condition the soil sufficiently enough for the seeds to grow. 
Once the dirt has loosened, you may increase tilling depth and speed, continuing to make passes until the soil has been conditioned to your desired depth of 4 – 6 inches and removing all remaining clods of thick dirt.
Front-tine, Rear-tine or Tractor Mounted?
Front-tine Rotary Tillers are most commonly used for smaller jobs or garden maintenance.  They are relatively easy to operate and tend to remain under 10 hp capacity.  A major benefit of front-tine tillers is the ease in which they are able to access tight areas with relative accuracy. 
Earthquake Front and Rear Tine Tillers from Tyson mowers
Rear-tine tillers are typically larger than the front-tine variety but still suited for smaller-scale jobs.  Due to the nature of being operated from the rear, these machines are less versatile than their front-tine brethren.  For example, you will need to keep a greater distance from buildings, cement, etc. but will be able to cover more ground in less time.
Best Rear Tine Tiller in 2022 (For Soil, Small & Large Gardens )
Large and professional scale jobs are best suited for tractor-mounted (rear tine) rotary tillers.  In many cases, a standard duty model can be suitable for ongoing estate maintenance and residential grade tilling while still meeting the demands of large jobs.  These models vary in hp capacity, with heavy-duty models ranging between 25 – 60 hp and a tilling width as wide as 80 inches.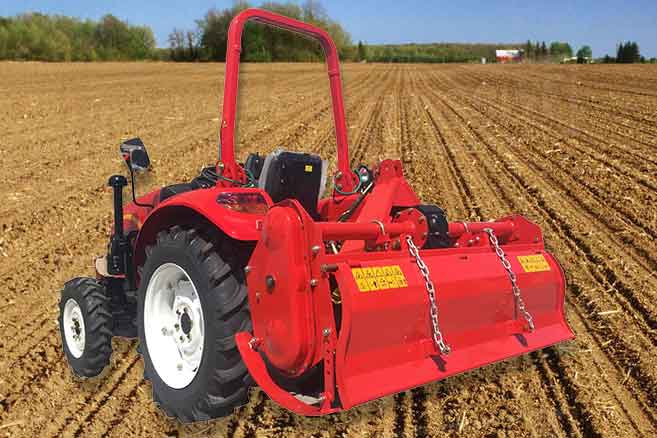 Tiller Rotation: Forward or Reverse?
Forward-rotation tillers are an excellent choice for garden spaces and soil that is well-aerated in addition to working conditions where the soil is either rocky or contains a high density of clay.

The forward-till method does not bury the residue. In fact, it leaves large clods close to the surface, requiring additional passes to get the expected results.

The Reverse-till method tends to prepare the seedbed more effectively than forward-till and is often the first choice for large scale jobs. Reverse tilling buries both the residue and huge clods of dirt along with the deposition of fines on the top. Reverse-till models work extraordinarily well in dry and hard soil.

Rotary Tiller: Gear or Chain?
In three-point rotary tillers, there are two drive options: chain or gear. As you would expect, both have their pros & cons. Each of these tillers supports rotor speeds close to 200 revolutions per minute, which is good to till in the 2-mph range. Moreover, they offer end-mounted drive systems that can be maintained easily.

Gear-drive rotary tillers cause increased torque to the ground, which makes them suitable for virgin soil and tend to be heavier than chain-driven models.
Another thing that has to be considered is the repair. Both chains and gears are durable. Replacing a broken chain is typically a more straightforward process than fixing gear related malfunctions.

Tines: Four or Six?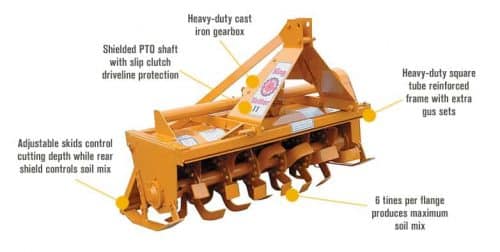 Rotary Tiller Tines
The total number of tines per flange is an important thing to consider. Four or six in total, the number of tines varies according to the manufacturer & model and must be taken into account when it comes to purchasing the tiller.  Horsepower increases with the number of tines. Six tines per flange tiller need 23% additional horsepower as compared to four tine-tine models.

Additionally, more tines mean more weight. Hence, it is good to be specific that the tractor is able to lift the number of tines easily, taking into account Pto horsepower required to operate.
Benefits of machine tilling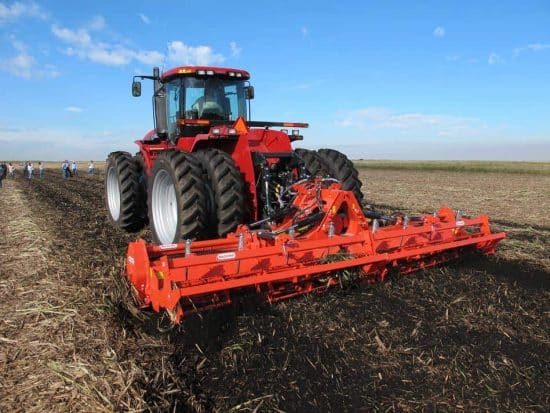 Heavy Duty Rotary Tiller
Using the right tiller is an effective way to decrease the amount of time and effort it takes to prep the soil while providing superior results.  In turn, the job is made to be more cost-efficient providing for greater profit opportunities for professionals while decreasing maintenance costs for owner/operators.
Rotary tillers also provide benefits is weed removal in areas where chemicals cannot be used, either due to established plant growth or regulatory constraints.  This practice often applied to areas affected by heavy rainfall or irrigation to re-condition crusted mud and dirt.    
Safety Precautions
Before each use always check fluid levels and look for anything that appears to be loose.  Give all mechanical components a tap or nudge for stability and tighten the bolts regularly as a matter of precaution.
Rotary Tiller Maintenance
Never attempt to operate unless properly seated in the operating position.  Ensure safety equipment is properly installed and positioned accordingly. 
When tilling on uneven ground be cautious of rollover potential.  Keep children and animals at a safe distance.
Avoid objects such as rocks and other foreign material in the area you are tilling.  Never attempt to adjust the tines or remove debris while the machine is running. 
Additional Considerations
• Availability of spare parts and services

• Warranty of parts the equipment, length of coverage, and who will perform the repairs

• Required number of passes to reach the expected tilling depth on three-point tillers

• Bearings and other moving parts should be cleaned and lubricated at fixed intervals

• Maintenance schedule from manufacturer's side has to be followed

• Prior to use gearboxes must be checked

• Pivot points and drivelines must be geared before and after use

• Offset capability is a good feature to consider
Victory Tractor offers a variety of Rotary Tillers to suit your needs. Give us a call any time – we're always happy to answer any questions to help make the right decision.



Victory Tractor Implements is proud to offer a wide range of products including flail mowers, wood chippers, rotary tillers, and backhoes, all designed to be connected directly to your tractor's PTO for maximum efficiency and performance. In addition, we also offer winter equipment such as snow plows and snow blowers, designed for use with skid steers.

We source all of our equipment directly from the manufacturer and pass the savings on to our customers.  As always, the team is standing by to answer any questions to assist with your decision.  Victory support can be reached directly at (562) 534-8182 or sales@etractorimplements.com
Proud supporters of the FFA