A Practical Guide
Let's be honest. We all love snowfall from the outlook. But, when it piles up and blocks the roads and sidewalks, the same snow doesn't seem so appealing anymore! So, if you are surrounded by heaps of snow this time of the year and want an effective method to eliminate it, this article might interest you!
When the driveways and sidewalks are entirely covered with snow, it's time to plow! Although some consider it to be a terrible duty, it's not that hard! However, when it snows heavily, not everyone has a snow blower on hand.
Alternatively, you can also remove snow using your front-mounted tractor snow plow far more effectively!
Ideally, before you face the first snowfall of the winter, read these snowplowing safety tips to avoid any severe damages. To top it all off, these implements are on our top 5 snowfall tips you should have in the first place before snow plowing.
Did You Know: Snow Plows aren't the only way to effectively remove snow. To learn more about viable alternatives head on over to Everything You Need to Know About Tractor Snow Blowers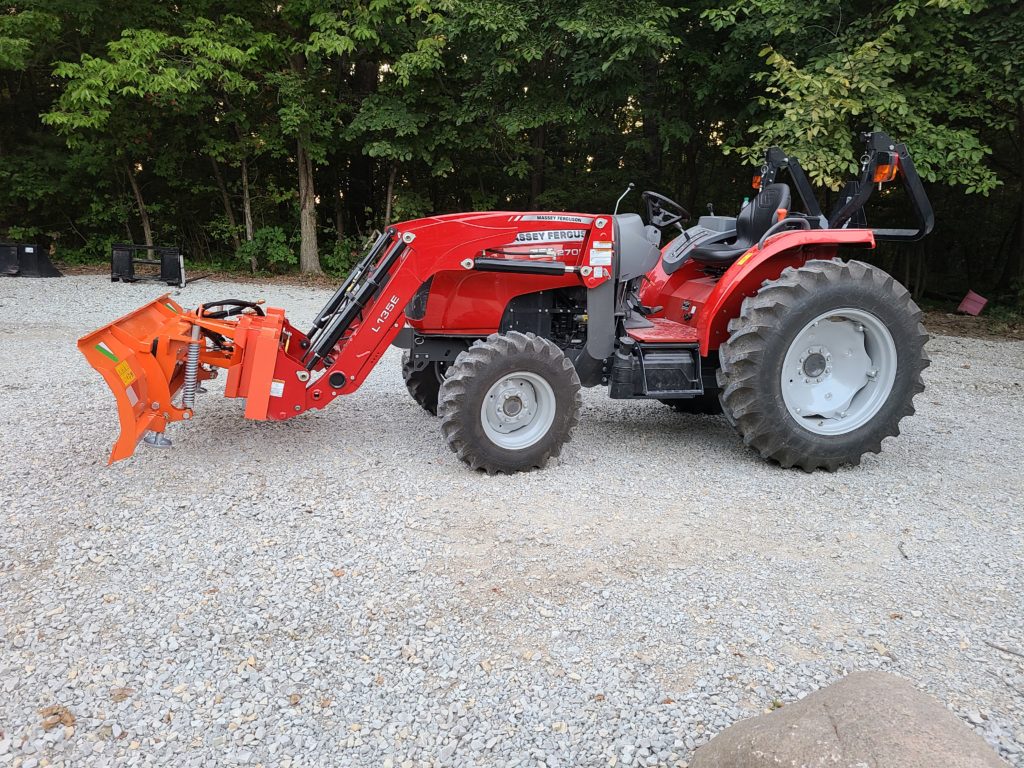 Why Are Front Mounted Tractor Hydraulic Powered Snow Plows So Effective?
Compact Yet Powerful
Front-mounted snow plow blades provide versatility to any compact tractor and are a cost-effective solution to snow removal issues while it's design makes them particularly simple to attach and detach with a skid steer front mounting plate. This snow plow is powerful enough to clear both deep and wet snow.
Easier to Use Than Heavy Plows
There is no denying that having all of your work out in front of you is preferable to constantly turning around. It will not only save your neck, but it also makes your task more apparent if you have all of your work in front of you. A front-mounted tractor is even suitable for beginners as it is lighter in weight than typical snow plows.
More Fuel Efficient
Front-mounted tractor snow plows warm up in 5 minutes and has a quick throttle response. So, it doesn't get any poorer fuel economy when plowing. Not to mention that the gas powertrain is lighter, so you're putting less strain on the front end with that big snowplow.
For more a more generalized overview regarding the benefits of snow plowing including tips and tricks check out our post Making Winter Fun Again
First Run of My New Skid Steer Snow Plow Blade
Removing Snow with a Front Mounted Tractor Snow Plow – Top 5 Tips!
1. Angle the Plow Appropriately!
The front mounted tractor snow plow's adjustable attack angle can be fully set to 55°, 65°, or 75°. So you can accommodate the plowing surface, weather circumstances, or operator choice. In this position, the blade is tilted to either the right or left side of the tractor. After the first pass, use this spot for windrowing or broadening.
2. Adjust the Plow with Respect to Deep or Wet Snow
You need to keep the plow raised, about seven inches off the ground in heavy snow to shear off the upper surface. If you have a Power-V Plow, make the initial pass in the V position. Then, to spread things out, go to the Scoop or Angle position.
Make sure to throw only enough snow with each pass to get the work done effectively while not overloading your tractor. A principle of thumb is to use a whole blade width for two inches or less of ice, three-quarters of a blade for four inches of ice, and half a blade for six inches or more of ice.
The best piece of advice: Once you begin, complete the job. Wet snow can deposit in windrows overnight that might freeze and become tank traps by the morning.
3. Make Sure Your Snow Plow Cutting Edge is Sharp Enough
Examine the cutting edge of your snowplow. Your snow plow cutting edge should be sharp enough according to the depth of snow. However, an overly worn cutting edge can lead to costly blade maintenance in the future.
4. Lower the Plow Shoes When Plowing on Dirt of Gravel
Make sure to lower the plow shoes when plowing in dirt and gravel. It will lift the blade and prevent you from scraping the surface away. Raise or detach the plow shoes while plowing on concrete or asphalt to scrape as near the surface as possible.
5. Always Carry a Snow Plow Emergency Kit!
When it comes to snow plowing, you must carry a snowplow emergency kit consisting of on-hand spare parts for quick repair such as replacement hydraulic hoses that should also include:
• Additional hydraulic fluid
• A pump solenoid
• Extra cutting-edge bolts
• A trip spring
When plowing, it is also a good idea to have a cell phone or two-way radio with you.
Things to Avoid While Removing Snow – The Takeaway
When plowing, maintain the blade close to the body to prevent back strain. Don't forget that, a plow should fit your body size and power level. To avoid snow from sticking, wax your plow blades.
Do not drink alcoholic beverages before or shortly following plowing.
Finally, always read the Operator's Manual and observe all operational and safety guidelines before operating any equipment.



Victory Tractor Implements is proud to offer a wide range of products including flail mowers, wood chippers, rotary tillers, and backhoes, all designed to be connected directly to your tractor's PTO for maximum efficiency and performance. In addition, we also offer winter equipment such as snow plows and snow blowers, designed for use with skid steers.

We source all of our equipment directly from the manufacturer and pass the savings on to our customers. As always, the team is standing by to answer any questions to assist with your decision. Victory support can be reached directly at (562) 534-8182 or sales@etractorimplements.com