Gas Powered GTS-1500 Wood Chipper
With Winter approaching it's end and Spring on the horizon do you suddenly feel a new headache coming on? No doubt the the fallen trees and bulky branches in your yard can prove to be a menace as the snow begins to quickly melt. Like most people you've probably wasted ample time on such yard cleanups and found clearing up this debris to be extremely strenuous and time-consuming.
Fortunately modern tech has provided you with a solution that works like magic and isn't too hard on the wallet! Yes, of course we're talking about wood chippers, the GTS-1500 Wood Chipper in particular!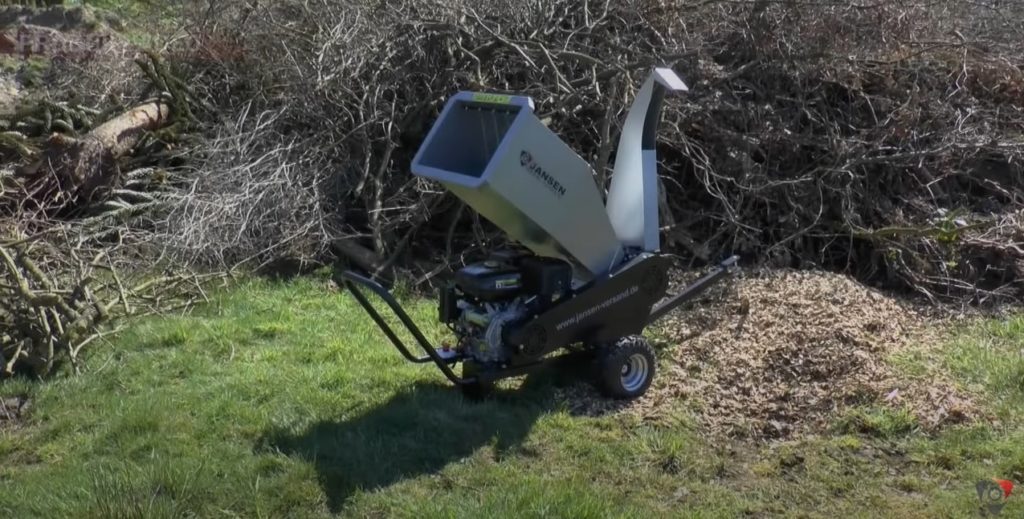 Having stood the test of time, this is one of the best mobile wood chippers in town, and it can process large wooden branches into smaller chips that you can clean up easily. Thanks to it's portability, the GTS-1500's automation, work system, and easy handling makes it so quick and coherent to operate that it seems like child's play.
So, without further ado, let's review this technological marvel from all aspects to help you decide if it's ideal for you!
Description
GTS-1500 Wood Chipper is a well-equipped machine having an adjustable trailer hitch and support leg, which make it perfectly eligible to use in professional applications instead of any tractor or heavy current-voltage equipment.
For example, the capacity of work of Jansen GTS-1500 and it's successor the updated Victory Tractor MDWC-1500 Wood Chipper compete head-on with highly efficient heavy equipment because of it's simple, yet effective design.
On top of that, the GTS-1500 is not just an ugly piece of equipment. It comes in vibrant colors that are pleasing to the eye. So, if you're someone who prefers having equipment that is as classy as it is functional, the GTS-1500 is right up your alley!
Working
The GTS-1500 Wood Chipper is equipped with a roller with which two movable blades are calibrated. Both of the blades are attached to one counter blade.
To make it simple there's rapid and continuous movement of the blades (also referred to as knives) in the opposite direction to that of the attached counter blade. This mechanism allows the chipper to shred giant logs of wood into tiny pieces (also called chips).
The time duration of the operation depends entirely upon the diameter and the length of the wooden log.
For reference, this machine can chip a 200 lbs wooden log having a diameter of 4-inches in the short duration of just 24 hours!
See the Victory Tractor MDWC-1500 Motorized Wood Chipper in action:
Machine Specifications
Technical specifications of the machine are elaborated as under:
Build Quality
| | |
| --- | --- |
| Engine | Briggs and Stratton |
| Torque (ft-lbs) | 21 |
| Fuel tank capacity | 1.725 |
| Starter | Manual start / electric start |
| Trial connection | Standard ball coupling |
Dimensions
| | |
| --- | --- |
| Width | 35 inches |
| Height | 49 inches |
| Depth | 59 inches |
Dimensions of Complex Parts
| | |
| --- | --- |
| Rotor width | 0.36 inch/16mm and winglets |
| Size of the inner end of input funnel | 12 x 6 inch |
| Size input funnel | 18.5 x 13 inch |
| Height of input funnel | 43 inch |
| Height of discharge funnel | 61 inch |
| Tire diameter | 16 x 6.5-8 |
High-Quality Knives Are What Make This Piece a Fan-Favorite!
When something needs to perform heavy-duty work, absolute quality is a must! Because hey, if you get a low-quality chipper in order to save some bucks, you'll end up losing all as the knives will start to give away in a jiffy!
This is why models such as the Jansen GTS-1500 and Victory Tractor MDWC-1500 work so well. They both offer 2 + 1 state-of-the-art knives that will last for several years!
They work perfectly under high stress, even when they reach the max speed of 2400 RPM!
Pros and Cons
Pros
●      Easy Handling
It comes with portable handling property that makes it unique. The interface is simple, which makes the operation really straightforward!
●      Complex Parts of Machine
The complex parts of the machine include two moveable knives and one counter knife, input and discharge funnels, and unique tires of the machine. All parts are easily accessible in the open marketplace!
●     Maximum Employed Size Ranges of Wood
The GTS-1500 can chip pieces within the diameter of 4-inches and the maximum length of around 12 lbs, in just a short duration of about 60 mins.
●      Budget-Friendly
It is financially feasible! Moreover, its parts are also readily available in an open marketplace so that you can buy them without burdening your pocket.
Cons
●      Less Fuel-Efficient
Although it does not require any high voltage source for starting, its fuel consumption rate is not up to the ideal mark, and thus, its fuel average fuel consumption is slightly greater than that of ordinary wood chippers.
●      Not Advised for Bulky Wood Chunks
The machine is not efficient for the wooden logs whose dimensions exceed the convention as described above.
The Bottom Line
Getting a wood chipper is by far the handiest and easiest way to clean the menacing autumn mess. And if the wood chipper is portable, like the GTS-1500 E, things become even more accessible!
The high-quality build, heavy-duty parts, unparalleled efficiency, and straightforward handling make the GTS-1500 Wood Chipper a winner!
So, if it checks all your boxes, it's wise to get it right now!



Victory Tractor Implements is proud to offer a wide range of products including flail mowers, wood chippers, rotary tillers, and backhoes, all designed to be connected directly to your tractor's PTO for maximum efficiency and performance. In addition, we also offer winter equipment such as snow plows and snow blowers, designed for use with skid steers.

We source all of our equipment directly from the manufacturer and pass the savings on to our customers.  As always, the team is standing by to answer any questions to assist with your decision.  Victory support can be reached directly at (562) 534-8182 or sales@etractorimplements.com