Description
BH-7′ Compact Backhoe Attachment from Victory Tractor Implements
Tractor Attachment for mid-sized Tractors of 25 – 55HP 
Our VTI-BH7 is an affordable high-quality alternative to a mini excavator designed for medium to heavy-duty performance and uses a very powerful hydraulic system creating a bucket digging force of 3,000 lbs.
This backhoe has its own high-pressure oil pump and is easy to operate and controlled by 2 joysticks from its independent control station.
The VTI-BH-7 can be mounted to all tractors with a standard PTO connection (1 3/8″ spline).
Includes mechanical thumb and 15″ bucket (additional buckets available for purchase separately with free shipping when purchased in conjunction with backhoe).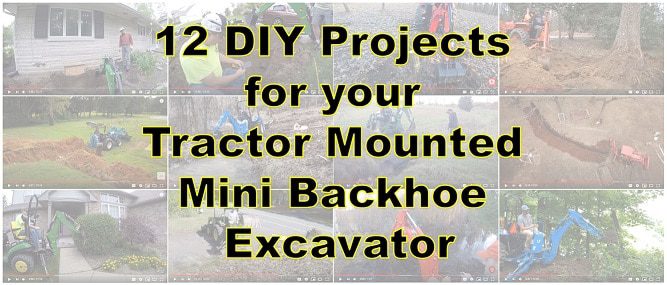 12 DIY Projects for your Tractor Mounted Mini Backhoe Excavator
Features:
• Your choice in excavator bucket size, 9″ or 12″ or 15″ or 18″ included with purchase. (Thumb available)
• Safety valves for all control circuits
• Hydraulic hoses (pipes) with safety covers
• New generation hydraulic cylinders for smooth performance
• Hardened Bushings for arms and feet are exchangeable for easy service
• 15″ bucket
• Mechanical thumb
Performance:
The tractor's PTO output drives the 2250 psi hydraulic pump (from its own hydraulic tank with site glass), operating the backhoe (no need for tractor hydraulics). Because of the weight of the BH-7 (1,203 lbs.), you should use extra weights on lighter tractors (please consult with your tractor's manufacturer).
The BH-7 backhoe attachment can stay mounted on your tractor when driving on public roads. It does not cover any of your tractor's lights.
The hydraulic stabilizer provides the backhoe with compact transport dimensions (71" x 51" x 55").
The maximum working height is 10' 2″, the working radius is 9′ 6", and the working depth is 7'.
ATTENTION
Due to the backhoe size, we use a steel crate for delivery. Partially assembled machines do not contain any fuel, oil or other fluids or grease needed for operation.  BEFORE USING THE MACHINE please carefully read the user manual.
Call Victory Tractor at (562) 534-8182 to place your order today!
Frequently Bought Together…
You May Also Like…


Proud supporters of the FFA